My Art and Craft Supplies :: Furniture for Creative Spaces :: Flat File Cabinets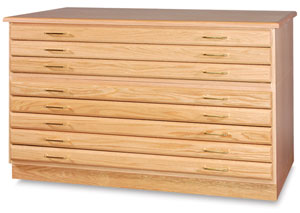 Crafts and art supplies create the need for specialty storage solutions. Flat files have been used mainly by artists to store high-quality watercolor or other valuable papers, such as handmade papers.
Now that scrapbooking has caught on, these files make a perfect filing cabinet for storing larger-sized scrapbook papers. Flat filing cabinets are great for organizing craft or scrapbooking card stock or rub ons and will keep them from being damaged. We've highlighted a few flat files here in My Art and Craft Supplies. To see an extensive selection, visit our partner store: Find Specialty Filing Cabinets - Just Filing Cabinets. Also see the Furniture for Creative Spaces department for drawing tables, drafting chairs, folding tables and folding chairs.
Flat File Cabinets
Page 1
2
Next