My Art and Craft Supplies :: Drawing/Drafting Tables & Chairs :: Artist Taborets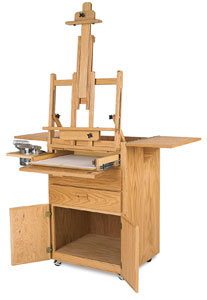 Rolling artist taborets (tabourets) provide mobile storage for art supplies that you need to keep near your drawing table or easel or to move around your art and craft work room.
Some of these taborets have optional easels that can be used with them - this saves lots of studio space!
These taborets are a few storage solutions for your studio or craft room. For a wider selection of mobile cabinets and taborets, see our partner store: Drawing Tables & Easels where they may have the perfet taboret you are looking for.
Artist Taborets